Delivery Info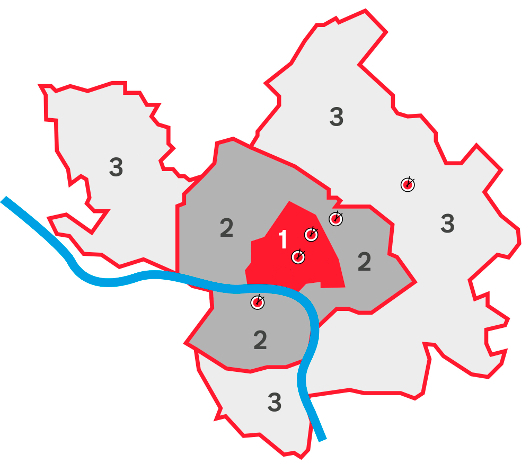 Delivery: from 10.30 a.m. until 9.00 p.m.
*the latest time to take your order
The discounts or benfits can not be combined.
Minimum order 5 EUR.
Each box contains one portion of soya sauce, wasabi, pickled ginger and a pair of chopsticks.
For party box accessories are supplied for four.
Zone 1: 1 €
Staré Mesto, Nivy, Starý Ružinov, Mlynské nivy, Prístav, Petržalka – riverside
Zone 2: 1,50 €
Trávniky, Ostredky, Pošeň, Štrkovec, Prievoz, Pionierska, Trnavské mýto, Tehelné pole, Pasienky, Kuchajda, Koliba, Kramáre, Staré Grunty, Patrónka, Petržalka - Dvory, Háje
Zone 3: 2,50 €
Trnávka, Zlaté piesky, Vrakuňa, Vlčie hrdlo, Podunajské Biskupice, Biely Kríž, Mierová kolónia, Istrochem, Stará Vajnorská, Part of Rača to Mladá Garda, Karlova Ves, Dlhé diely, Dúbravka, Lamač, Petržalka - Lúky, Airport. Minimal order 10€.
Claim of ordered products.:
In case, that the ordered products are not what you really wanted in the matter of quality or quantity, do not hesitate to make a claim. You can make the claim personally or we can collect the claimed products. The condition of the claim is, that there can not be missing more than 10% of the product. If we consider your claim us justified we will offer change for different product or return the actual price of the product.